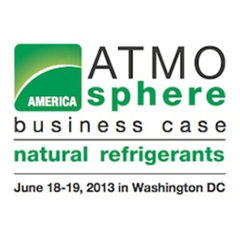 Carnot Réfrigération was invited to present two conferences to the event ATMOsphere America 2013 - THE BUSINESS CASE FOR NATURAL REFRIGERANTS IN NORTH AMERICA, 2nd annual which will be held next June in Washington. The meeting place for industry experts to discuss natural refrigerant trends, latest technologies and regulatory issues in the US and Canada is back for a second edition! This event targets around 200 decision makers from leading retailers, suppliers, associations and more. Topics of presentations and workshops will be looking at end-users (retailers and consumer brands) as well as technology providers from the commercial and industrial refrigeration and heat pump sectors.
In addition, the mornings of day 1 and 2 feature sessions on the latest market trends as well as regulatory issues and standards. Creating high-efficiency refrigeration systems designed by a team of skilled and resourceful employees has made Carnot a leader in its field in North America, and its experience remains unmatched anywhere on the market. Carnot is qualified in meeting the needs of sports facilities (arenas), large and small supermarkets, distribution centers. Marc-Lesmerises, founder and CEO of Carnot Refrigeration, will be here to present two conferences: the first one about CO2 in all its applications and the other one about the future of sustainable development in the refrigeration sector.
To read the R744 sum up of the conference ATMOsphere America, click here.