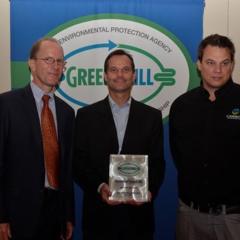 During the Conference Energ&Store Development 2013 organized by the FMI last September, the Environmental protection Agency of the United States (EPA) awarded Carnot "Best of the Best" 2013 for its CO2 transcritical system in the project of Hannarford, Turner, Maine.

The agency rewarded the success and the environmental achievements of the year discerning awards for supermarkets having implanted environmental measures in their operations, especially in their refrigeration.

Besides being certified GreenChill Platine last August, the supermarket Hannaford, Turner, Maine then won the Prize " Best of the Best " for its system of refrigeration Carnot. To see the piece of news, click here.
On the picture :
Tom Land of EPA, Paul DuPerre of Hannaford, and Marc-Andre Lesmerises of Carnot Refrigeration with the Best of the Best Award for the Transcritical CO2 Store in Turner, Maine.